|
NEWS
|
RELEASES
|
STORE
|
GIGS
|
CONTACT
|
LINKS
|
SF040
Snowblood
s/t CD/2xLP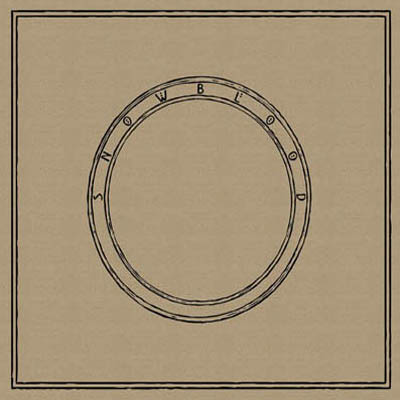 1. Untitled
2. Untitled
3. Untitled
4. Untitled
Finally released, this is the third and final album from Glasgow's post-rock / doom outfit. Recorded in rural Scotland by the band themselves, this is at times beautiful, at others totally crushing. Beautiful art by Glyn of Scrawled.

-- bandcamp here>
Released 04/08/11.

Ltd. 500 CDs and 500 2xLPs on black.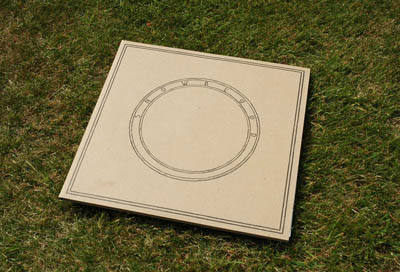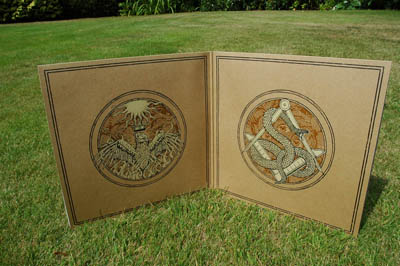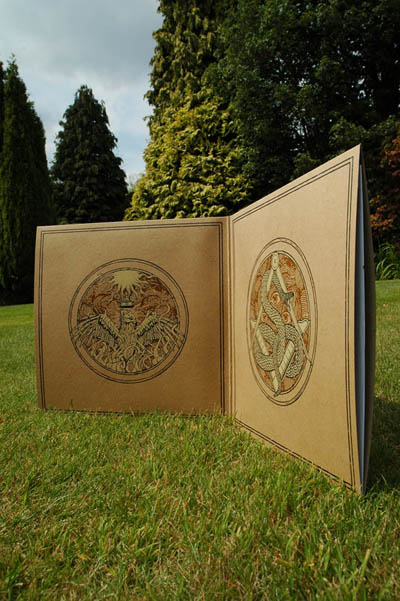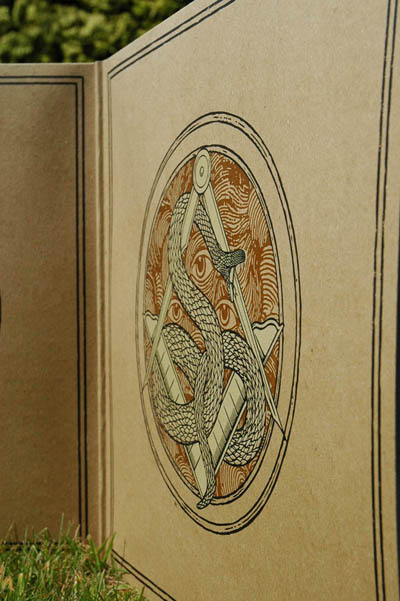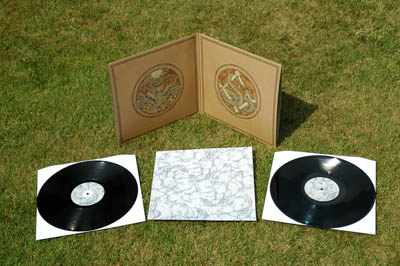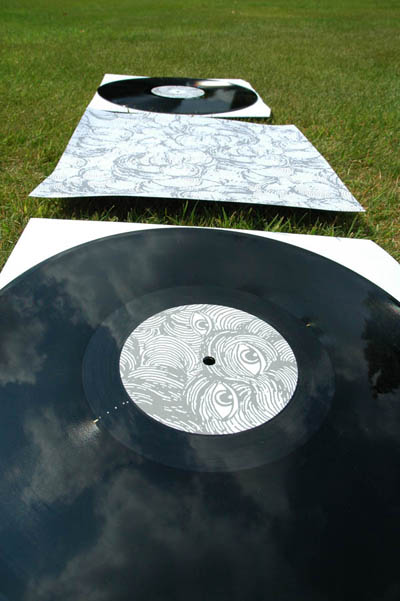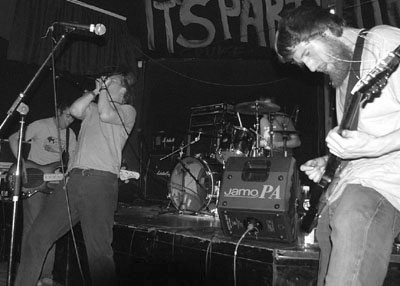 Snowblood | Ewan, Tobin, Youngy, Luke |
Myspace
Built On A Weak Spot
It really is a shame that a band like UK's Snowblood can go relatively unnoticed during their run while other critically praised bands that operate within the same area musically continue to do so, however less effectively. I was introduced to the band when their second album Being and Becoming was released in 2005 and it was a massive listen of sludgy doom ridden tunes that grabbed my attention from the start. I have never been a big fan of that sort of thing over the years, however when done right it forces you to take notice and that's part of the beauty of what Snowblood managed to accomplish while remaining in the shadows of so many others sadly. Their music can definitely be considered exhausting to sit down and listen to fully in one sitting, much like I felt when I first heard the debut Jesu LP. Except the thing I appreciate about Snowblood, other than the music itself, is that the band didn't shy away from that approach as they progressed. They still insist upon creating the type of slow and successive punch that grinds and toils until it hits the payoff, and the payoff almost always proves to be worth it. Here on their third and final album the band is undoubtedly at peak form and at their most challenging with four lengthy compositions for the listeners to digest.

Is This Music
This is a passionate scream of an album. Sounds creep up on you, slamming into your cranium like a pickaxe. Hints of Mogwai and Spiritualized (the early Spiritualized, before they became pop stars with gospel choirs, Abbey Road EPs and Ladies And Gentlemen We Are Floating In Space) peek out at every turn, making it clear what kind of an audience this band are going for. These guys don't want mainstream acceptance, they want to do everything on their own terms. This is a sinuous, slow-burning, sexy album that takes its time to reveal hidden depths, drawing you further in with each listen, just as every good album should. It comes as no surprise to learn that the piece was produced in isolation (somewhere in The Scottish Highlands). This album has a heart but it is a cold, unforgiving, vengeful beast that will either kiss you or kill you. 4/5

Teeth Of The Divine
I think there are a few comparisons between Snowblood and Fall of Efrafa. Both are from the UK (Snowblood hail from Glasgow) and are (were) relatively unknown. Both have a trilogy of Cds, both have the same recycled, cardboard Cd sleeves with simple effective artwork, and both are utterly magnificent. And unfortunately both have called it quits after their third landmark album. The difference musically is slight as Snowblood play a more crusty, caustic form of sludgy post rock that while still injecting moments of acoustic bliss, builds and huge crescendos is a bit more brittle and angry rather than epic and somber, but no less brilliant. The hour long journey actually start pretty serenely as the first of the four untitled tracks start with delicate atmospheric programming, soft percussive approach, shimmering guitar gait and clean singing, lulls you into a false sense of security before the track erupts into a seething, screaming, frenzy of lurching riffs and a huge bluesy, stoner rock groove. And that's the first 18 minutes. The second track has a touch act to follow but its moody strumming, cello/violin and dark crooning set a nice mood akin to Neurosis in deft, dark artistry, but you can feel the urgency start to build and eventually it does erupt at 9:44 into a huge but controlled doomy lurch. The somber, more post rock and Neurosis influenced hues continue to start the third track, where delicate strings back a steady, languid, shimmering riffs and clean vocals make for a hypnotic 10 minutes even with some pained screaming towards the end. The 17 minute closer has a very slight Tool influence before a massive sludgy section and crippling atmospheric segue and eventual explosion of hefty, pummeling sludge and its simply brilliant, closing a brilliant album in fitting fits of exasperation and rending emotion. As with Fall of Efrafa its at pity this band split up so early, but also like Fall of Efrafa, they left behind a brilliant legacy that fans of post rock and sludge should absolutely check out right now.

Subba Cultcha
In a beautifully-packaged and designed cardboard sleeve, Glasgow foursome Snowblood present their third and final record, and what a record it is too. Inhabiting the space between post rock and doom metal, they take what is in some respects a cross of two genres which should potentially work really well and somehow weave it into something even better than the sum of its parts would suggest possible. Failing to title either the album itself or any of the four tracks contained within would for some bands be unthinkable; but in Snowblood's case, correct; simply allowing the music to speak for itself. Not that you should expect they would be to any degree interested in commercial concerns – or even what anyone outside the band thinks of them. The shortest song on here is over 10 minutes long; there is no compromise of any kind that could be allowed to dilute their artistic vision within a million miles of this record, and it is all the better for it. Such a pure piece of sonic art will obviously hold appeal to a relatively small range of people, and that's all the better. Those who find this record will cherish it for its depth, its emotional power, and the vast, undeniable crescendos to which these songs build. Beauty incarnate, twisted but pure. 9/10

Lords Of Metal
What are the odds? After Fall Of Efrafa here another British band comes sailing ashore with a terrific postmetal release, which flames, climaxes impressively, and ultimately collapses with the band along with it. That's right, Snowblood has released its third and final album with this untitled album. My only solace is that I did not know them before, and what is more; I received a beautiful heritage with this LP. These Scotsmen have visited John Peel once, and I can vividly imagine why. These days it does not happen very often anymore that a band from the Neurosis shool of postmetal impresses like Snowblood does. And yet they succeed, mainly because of their refreshing self-mindedness. This enigmatic little record lasts an hour, but only houses four tracks, also without titles. However, as plain and dull a completely title-less record may seem, so full and versatile does this music sound. The first song starts off melodic and melancholic, like Amenra with clean vocals, only to culminate into a mega-heavy überdoom bonghit, with Iron Monkey-like screams. In the three quarters of an hour that follow the band effortlessly keeps the listener's attention with a wide spectrum of instruments, even during the ear-wrenching noisy experiments. All of which is impressive, very impressive, especially after the tsunami of postmetal releases we just went through. And so it is a huge pity that there is no Snowblood anymore. Only this beautiful, titleless tombstone. Goodbye Snowblood, you will be dearly missed when yet another inspiration-less Isis-clone marches past our desks. R.I.P. 85/100

Aristocrazia
La band proveniente dalle Highlands scozzesi arriva al traguardo del terzo disco confermando dopo i due ottimi lavori "The Human Tragedy" e "Being And Becoming" di trovarsi in uno stato di grazia compositivo riscontrabile in poche realtà. Le sonorità doom proposte scivolano impregnate dalle anime alternative legate al post-metal e allo sludge che fuoriescono improvvise e prepotenti. Questo nuovo album dal semplice titolo omonimo "Snowblood" esalta quelle che sono le caratteristiche peculiari della band: la robustezza del composto, la psichedelia alienante e quel sound che guarda al presente pur rimanendo ancorato a solide basi di richiamo settantiano. Quattro lunghe tracce senza titolo, un'ora e poco più di musica priva di vuoti e colma d'attimi in cui la mente può lasciarsi andare a viaggi infiniti o farsi scaraventare di getto in terra dalle rabbiose e brevi sfuriate. I brani nella loro dilatata estensione tendono a crescere d'emotività nota dopo nota arrivando a toccare picchi entusiastici prima che l'improvvisa e repentina doomizazzione frantumi ciò che si era venuto a creare, una sorta di Demiurgo che fa e disfà a suo piacimento l'opera che sta narrando. I musicisti sono ben coordinati, il riffing da trip e le varie soluzioni effettistiche annesse non fanno che aumentare quella sensazione di trasporto così come la vocalità spesso "acida" del cantante (non si risparmia comunque parti appena accennate o lievemente clean) si amalgama perfettamente con le note che sotto scorrono. Le basi del resto si adattano alle movenze impresse, riescono a passare da un minimalismo estremo a passaggi dove il dinamismo (termine da prendere con le molle in una release di questo tipo) diventa una parte fondamentale sia per quanto riguarda la batteria che il basso che ben si prestano a questi cambi repentini. Gli Snowblood hanno prodotto loro stessi il disco nelle Highlands, per l'artwork si sono affidati a Glyn che ha confezionato per loro un digipack raffinato con un rilievo per ogni facciata d'esso fra i quali spicca in primis quello col nome della band aka titolo dell'album rilasciato dalla SuperFi Records. Tiratura limitata per questa release, ne sono state infatti stampate solo cinquecento copie sia in versione cd che in quella Lp quindi se lo doveste incrociare con lo sguardo non fatevelo scappare è una chicca che vale la pena d'avere assolutamente.

The Sleeping Shaman
Snowblood are, alas, no more and this, their untitled third LP, is their epitaph. One of the UK's most sorely underrated bands, the Snowblood live experience could be akin to a force of nature, and previous records never quite seemed to capture that. THIS recording, however, is as true a representation of their sound as could hope to be heard, and as an epitaph, is QUITE the imposing monolith. Immaculately packaged in a fold-out card sleeve replete with striking, alchemically-influenced art, the four tracks that make up this behemoth are left untitled, with only the lyrics included on the fold-out booklet. No credits, no information, nothing. Snowblood have chosen to let their words and music sound the final trumpet. Fading into earshot with a sound like the distant singing of telegraph wires, the opening track uncoils itself over almost 20 minutes, delayed guitars and layered vocals over melodic bass and subdued yet busy drums exploding into urgent, off-kilter guitars and throat-shredding vocals, briefly receding back into a tense Pere Ubu-esque guitar, drum and synth shuffle before crushing us with lumbering doom-metal riffage. This elephantine chording is momentarily broken by a free-for-all skree-fest before the vocals return in a harsher form, throatily declaiming over descending, monumental chords crackling with distortion and making full use of the two-guitar set-up, eventually swinging into a lumbering rhythm that culminates in a droning, shimmering fade.....and thats all in the first track!! The EPIC second track moves from subdued guitar and vocals, backed by the sound of strings – cello and violin perhaps – into HUGE discordant yet triumphant guitars and culminating in heavily delayed guitars and organ. The scope of this sound is VAST. Track three is the shortest track here, at 10 minutes, but passes in the blink of an eye with its mature and full-sounding post-rock/post-hardcore chiming lilt and gorgeously melodic bass tones. But its on track four that Snowblood really have at us with all guns blazing. Alternating between Belong/MBV sounding synth/drone/delay passages with an almost audio collage feel and a definite Andy Summers sound to the guitars, edgy His Hero Is Gone-style blasting hardcore and crushing Iron Monkey-style doooooom with nasty, scything vocals, Snowblood show us the full extent of their palette in a gripping and dazzling display of power and chops. Once again, an epic that has the feel of a much shorter song – rather than overstay its welcome, you find yourself craving more once the droning feedback and John Carpenter-esque synths that close the track fade into silence. As I said earlier, Snowblood were very much unappreciated during their existence, much like Canvas – another UK band with whom Snowblood share stylistic similarities and experimental tendencies – but I personally loved both bands dearly, as I love ANY band willing to push the boundaries of their 'scene' and sound. Snowblood though, it MUST be said, were one of THE best of the boundless bands, and their demise is VERY much OUR loss. They are no more, and we are all the poorer for it......but, MAN, what a way to go!

Corazine
Scottish formation Snowblood seems somewhat of an arcanum: no info on the (very classy) chipboard sleeve, the minimalistic outside artwork is nothing but a few lines, and the inside artwork feels esoteric. The album's self-titled, or rather untitled, which is somewhat odd considering it's the band's third release. And there must be an interesting story hidden somewhere, as Snowblood seems to have decided their moment of splitting up at the band's foundation. "Snowblood" is an album that balances doom/sludge and post-metal on a pair of scales, sometimes panning left or right without letting the other side go completely. The hourlong album features a mere four tracks; the average fifteen minutes per song should be quite indicative of the spun-out, slow-paced nature. Don't expect a brainless monotonous dragging and droning, however. Despite the length, all tracks build up tension and atmosphere step by step – starting with whispers and harmless twanging, hardly insinuating any direction at all. The soundscape inexorably turns overcast with ominous beats and usually end in a full-scale storm of distortion and (high-pitched) screams. Fifteen minutes of Snowblood only seem like seven, and the hymns feel hardly composed. They're like a raw, pulsating force improvised and guided by inner emotion. In general attitude, style and perception, I could say it's the Scottish/UK counterpart for our Belgian AmenRa, but that's about the only comparative remark I can provide. Whether you want to space out on the best drug possible (music!) or need an outlet for frustration: Snowblood will take care of the problem.

Deaf Sparrow
Don't judge Scotland's Snowblood by the song that welcomes you into their third full-length. Like every other track in this self-titled release, it is untitled and, fortunately, unlike every other track in the record, is a bit of a mess. It is not a total throwaway, but the balance is more than off. The nascent sounds of a guitar stem from the post rock camp and hectically move into more intense territory; passages of static, heavy angular guitars and screams make up the first half of the song. That's the bad part and the hard transition is obvious. The second half is sludge, Iron Monkey-like sludge and it's really good. There, Snowblood get kicking and the asses they beat get blue. Sequence is important though and since you have to wait about seven minutes to get there, that may just be a bit long for most. The second untitled song starts off slow too. An association to the post rock moods could be established. The build up takes its time and a cello gives the track a profound moodiness that was absent in the previous track. When the going gets heavy, the heavy gets going. Snowblood thrash the second part of this sixteen minute mammoth via some of the most gorgeously layered guitar volume competition I've had the pleasure of listening. I don't see any liner notes, but whoever produced this did a masterful job. The guitars have this vibrancy to them that is just live like an open wound. The third untitled song is stunning. if for the most part lacks vocals, grunts, growls and lyrics it is because such beauty would only be uglified by the mundane aspects of the human voice. Guitars have rarely been as expressive carriers of hope. That's what to me this song transmits; a light, a road downhill that winds down into the garden of Eden. Yeah, the screams make their entrance, but they do not overcome, nor overwhelm. The moods pick up only to solemnly recede. Mogwai, my ass. I am not so sure Snowblood are a doom sludge band as they are marked in their Metal Archives page. Their range of expression is definitely past beyond that and into mellower territory. They can be as acerbic and intense, but this self-titled shows much more color. To crash those that doubt, the fourth and last track (untitled by the way) extends the dynamics and ventures into what some may tag to be Tool-esque territory. But this is more. Snowblood up the ante here,. The heaviness of the track grants it. Skip the first half of the first song and this album is stellar. 4/5

Global Domination
Before hopping in to review this record, I knew exactly jack-shit about Snowblood. Actually, I just found it there, on top of a list of "for immediate review" posted by Lord K and just took it. Expecting nothing, knowing nothing… tabula rasa, as the Romans used to say. Well, after listening to it for the first time, I felt compelled to look up in the RetardNet and see what I can come up about Snowblood. 'Cause, see, I liked what I heard pwetty mucho. Pwetty, pwetty mucho. OK, then, useful info first. Snowblood is/was (I'll explain that later) a quartet from Scotland, that seems to specialize into a kind of post-rock/post-metal, that seems to take inspiration equally from bands like Melvins, Isis, Neurosis, Cult of Luna and from more "angry" post-rockers, like Mogwai and Slint –but in a REALLY foul and misanthropic disposition. Of course, Snowblood is more angular, more bottom-heavy and seriously more aggressive than, say, Mogwai. Their songs don't hold even hints of "pop", moving, instead, towards a far more noisy – almost impenetrable – approach, that sometimes reminds me of Isis (or other bands of their ilk) more strung-out and plainly UGLY moments. The guitars are extremely heavy, even if they seem to be recorded in a more "snarling" way, than your basic sturm-und-drang bottomless sludge of, say, vintage Isis. The songs range from long (10+ minutes) to very long (almost 19 minutes) and seem to be based on "revisionist" doom riffing, but the band adds a quite a little flava in the whole deal, by exploiting tempo changes and textural devices, such as a commendable slather of feedback and careful orchestration, so that the songs' lengths never become a burden to the listener. Also, the band isn't ascairt to tone things down and wade through the guitar melancholy of post-rock (as displayed on the second of the four untitled tracks that comprise the record), imbibing the music with a clear sense of space and creating enough anticipation for the squall of guitars and screamed-out vocals to come in. This is what I call "head" music: it's pretty atmospheric, even during its most painfully heavy moments. It holds a lot of details, but one has to dig 'em up from under a deep cover of sludge. It's quite beautiful in its more serene moments and it's devastatingly heavy when it wants/needs to be. The musicians surely know their shit and, even during the most intense moments, there's always a sense of iron control over where the music will go and what will be achieved. The hefty lengths of the tracks hold almost zero redundancy; instead, through repetition and calculated implementation of instrumentation and dynamics, they achieve a sense of almost liturgical/ceremonial trance-inducing gravitas. The record's overall mood is pretty dark and imposing, but not without moments of clarity and beauty. The production is OK, although I'm not sure if some murkiness that I detect – especially as far as the drum sound is concerned – is intentional or just a matter of less-than-enough production money. All in all, if one's interested in a pretty refreshing take on what has become known as "post-metal", Snowblood offers a solid release with quite a lot of character, so as to be distinguishable from other similar records. The fact that this seems to be the band's swan song is a pity, because, at least from what I hear in this record, Snowblood had quite a lot to offer to the world of "internalized" heaviness. All the same, good work, laddies.

Diabolical Conquest
When it comes to the point where a genre is becoming stagnant, the only possible solution is to diversify, right? While incorporating a variety of styles into the mould of another can be compositionally catastrophic, some small proportion of bands do get it right and end up with a record that just 'works'. While Snowblood certainly is rough around the edges, the way they've made a sludge record that retains its destructive 'old school' sludge feel yet still appeals to the fans of the trendier, more accessible derivative styles of post-metal, is remarkably noteworthy. This is almost certainly due to the fact that Snowblood do not go down the path of mediocre ambiance with their music, and whatever 'post-metal' that is found on the record is constantly overshadowed by tidal wave riffs and pure hatred in sludge form. Snowblood is the Scottish group's third and final album – after its release, they disbanded, leaving the record as what they will be remembered by. Now I've not had the opportunity to explore their first two albums, but I will make the claim that they certainly finished on a high note. While the record has some passages that consistently irk me, the amalgamation of sludge metal with various post-rock/metal influences, as well as the flirtation with European styled emotional hardcore, is done remarkably well, and keeps the album constantly interesting and affecting. If and when the praises of post-metal bands like Pelican, Rosetta or Isis are spouted to me, my general reaction is to say 'get the fuck out, where's Neurosis?', but I can certainly learn to be civil when the best from those bands is taken aboard by an invariably less monotonous style of music. Snowblood certainly take a great deal of influence from the climactic rise and build approach taken by these 'post-whatever' bands, blending them within their own sound. The album's second track only really makes use of two very similar progressions, but the way it culminates from a soft and steady standstill to a cascading downpour of poignant riffage is exemplary. When I first listened to the record I was immediately put off by its beginning – the opening minutes are made up of a nauseating mixture of Neurosis and Killswitch Engage, and so I was incredibly dubious about the album after reading that it was a 'sludge' band on the promotional material. After five minutes however, the song exploded into what Snowblood really sounded like. The way this moment is mixed simply must be mentioned – the slight difference in volume makes the transition so much heavier. So what did it sound like? Some of the best sludge I've heard, that's what. Imagine a heavier Graves at Sea but with Thou's unrepentant fury and perhaps a sprinkling of Dystopia's sneering rage, and you have Snowblood at their heaviest. The first track is almost twenty minutes long and is perhaps the 'colossus' of the record – a good way to begin after fooling us with the mediocre intro. What makes Snowblood such a good record is that even if it's a section of simple composition, the music is always emotive to the utmost degree, regardless of the emotion (anger, melancholy, frustration) that is being conveyed. The record's third track plays out very much like a Yndi Halda inspired post-rock song but gradually builds its way into something I would expect from the European hardcore scene, sounding very much like the bands Aussitôt Mort, Mesa Verde or Sed Non Satiata. While these bands may not mean anything to your average metal listener, it's a commendation to the band to have been able successfully incorporate such a distinct style into a sludge metal record. If you were thinking that there couldn't possibly be any more variety on this record than I apologize, you'll have to bear with me just a little longer. The fourth song begins with something that sounds a lot like Tool and a little like Neurosis on The Eye of Every Storm, but Snowblood do not waste too much time with this and throw the listener back into their sonic devastation. I guess after two songs of melody and melancholy, they were aching to get stomping once again. Ultimately, it's very unfortunate that this is Snowblood's last record. It encapsulates this modern sense of diversity within music, and melds together various 'modern' sub-genres as well as both accessible and inaccessible styles of music to create a varied and absorbing album. I of course have my own issues with the album – it's certainly not perfect. The clean singing, while fitting nicely in the last track, sounds terrible on the first 5 minutes of the album, but rest assured that everything else is strikingly good. Perhaps the band purposely made the beginning of the record shitty, to deter posers and make the rest of it sound monumental in comparison. Regardless, Snowblood is an outstanding record, and while it would certainly be appealing to the new wave of doom listeners, I'm sure veterans of the genre will not find the album amiss either.

Nextclues
snowblood, groupe de Glasgow, me fait parvenir son dernier* album un an et demi après la mise dans les bacs, et pourquoi pas après tout ? Je ne vois aucune date de péremption au dos de la pochette, et même si le geste ressemble plus à un « débarrassons-nous de ces cartons de cd qui encombrent nos dessous de lit » plus qu'à l'habituel envoi promo « j'espère qu'on va pas se retrouver avec des cartons de cds qui encombreront nos dessous de lit », je prends. Je prends, j'écoute, et je-me-ré-ga-le. Ce n'est pas mon premier contact avec snowblood, ils avaient déjà livré un cd au KKKlues il y a quelques années, et j'avais le souvenir d'un groupe en –sis. Vous savez, les gentils suiveurs qui se font régulièrement briser pour avoir mis des paysages étourdissants sur la pochette et du rock apathique sur le disque qui va avec. Ici on a un cercle, pour représenter l'éternel recommencement, plus à l'intérieur du gatefold en papier recyclé quelques symboles maçonniques, parce que le mysticisme donne toujours une incroyable crédibilité lorsque l'on va puiser au plus profond de la noirceur pour composer son œuvre épique. Epique, tu l'as dit bouffi : 4 titres, une heure en tout, tu entres là-dedans et tu te dis que tu tiendras jamais jusqu'au bout. Et ouais, sauf que… j'ai beau généralement conchier ce style de Pink Floyds modernes qui s'éternisent sur des plans que tout groupe un peu désireux d'originalité/action aurait tôt fait de passer à la trappe, je sais au fond de moi que ce n'est pas exactement le style en lui-même qui me débecte, mais les groupes qui en appliquent les règles à la lettre et qui se lancent là-dedans alors qu'ils n'en ont pas les moyens techniques. En gros, faire du Neurosis quand t'es pas Neurosis revient à se tirer une balle dans le pied. Quant à faire du Isis, même quand t'es Isis, utilise la même balle, mais vise dramatiquement plus haut, s'il te plaît. Quand t'es snowblood, j'ai du mal à me l'expliquer, mais ça se passe tout de suite beaucoup mieux, tu peux ranger le flingue. Même quand dans le deuxième titre interminable l'impression d'avoir mis un disque de Godspeed You! Black Emperor par mégarde vient pointer le bout du nez, elle est chassée par un je-ne-sais-quoi de touchant… une sorte de sentiment que ces mecs doivent écouter des musiques qui n'ont rien à voir avec tout ce cirque, du rock anglais des années 80, et des choses aussi variées que les Chameleons, Opposition ou le New Order des premiers disques. La grisaille du Nord de l'Angleterre qui s'installe quoi que l'on fasse, une tristesse qui est tout sauf feinte. Pas plus que larmoyante, et ça c'est un des autres points positifs, ces mecs ne viennent pas pleurnicher sur leurs tristes sorts comme Mono et consorts – olé, la rime ! -, ils sont comme ils sont et font avec. Tout ceci est valable pour l'ambiance générale (c'est pas la grosse poilade), mais ce qui est particulièrement bon sur ces quatre titres à rallonge auxquels ils n'ont pas réussi à donner un titre, c'est qu'ils ne sortent pas du même moule. D'un post-hardcore classique, on peut transgresser vers un post-rock bien léché (et un peu casse-couilles sur certains passages, je le concède…), vers de l'emocore couillu ou vers des parties acoustiques bienvenues. Il y a aussi quelques interventions non négligeables d'instruments qui soudain sortent d'on ne sait-z-où : claviers ? samples ? violons ? médolica ? Ils sont difficilement identifiables, mais que ce soit pour des grésillements ou des petites mélodies perturbatrices, ils tombent toujours à point nommé pour remettre du sel, ou même du piment quand ça commence à en manquer. La vraie surprise, c'est que l'ensemble vire aussi parfois vers un down tempo qui ferait se tenir quelques doomsters à carreau (les paroles contenues dans l'insert sont doom de la mort, c'est à s'uriner dans le falzar (de peur, bien entendu)). C'est d'ailleurs ce qui m'a le plus impressionné sur ce disque, le premier et le dernier titre, les deux qui envoient le plus le bois, mais qui, une fois de plus, peuvent se transformer en un métal punitif ou en un shoegazing éthéré sans qu'à aucun moment remontent à la surface les odeurs nauséabondes de l'éternel antagonisme doux/violent, montagne/plaine aride. Un bel exploit. Dommage que ce groupe ne soit plus.* double sens : « dernier en date » et « dernier parce qu'il n'y en aura pas d'autre », snowblood ayant décidé de se séparer peu avant cette sortie. (7.5/10)

Peacedogman
This third and self-titled disc is the final release from this quartet from Glasgow, Scotland. SNOWBLOOD somehow blended experimental noise drone-rock, crushing slo-mo doom, and crusty punk in a way that's maybe more pleasing to the ear than anyone in their right mind could imagine. I read one review that called it "post metal" which kind of nails it. Maybe it's just me but metal overall has been turned upside down and shaken up a bit since the mid to late 90's. Creativity that never existed before that time is pretty much widespread in this day and age. It's quite nice actually. Each of the group's lengthy four untitled compositions here (approximately 15 minutes each) has a vibe that is worth exploring in the right frame of mind - whatever that means. "Untitled 2" sports creepy droning drumless tension building up (a la EINSTURZENDE NEUBAUTEN or CASPER BROTZMAN MASSACRE) for about 5 minutes before taking a melodic turn. After almost 10 minutes, the explosion of sonic suffocation is unleashed upon the listener. The band tears apart two chords and a riff a million different ways while keeping things interesting. This is quite the contrast of the "Untitled 1"; changes are abundant without sacrificing listenablity. The first composition has the slow motion metal and noise in spades. The third cut opts for much less of a metal feel along with the '90s "indie/emo" vibe rather than the current model which us old farts can't seem to appreciate. The last cut gives the TOOL comparisons credence yet it is different enough for us that don't like them not to recoil entirely. If the music were not artistic enough as an added bonus the consumer gets a letter pressed CD cover. The separate inner cardboard lyric sheet has artwork that matches the actual disc. I'm glad I got mine now get yours.

Masterful
Third and final album of this now defunct experimental doom metal combo from Glasgow, Scotland. Snowblood merge droning doom metal with sludge, sounding somehat similar to Yob, Winter in its clear (early) Celtic Frost inspired type of riffing and a bit of Khanate in its schizophrenic and alienated sounding vocals and crushing grooves. The tracks are filled with extensive psychedelic sections which contrast great with the angular riffing and gruff vocals. The grooves are crushing and unrelenting, sometimes reminding of the early feedback laden wanderings of UK doomers Esoteric. This is doom of the bruising kind, drawing comparisons with Khanate and Burning Witch. The sludge seems to pushed to the background in favor for the doom elements, which make Snowblood sound far more brutal than the average sludge band. The production is good with a crunchy guitar tone and massive sounding drums. The lush and intricate artwork was done by Glyn at [Scrawled]. "Snowblood" is the perfect eulogy for one of Britain's most promising new doom metal outfits.