|
NEWS
|
RELEASES
|
STORE
|
GIGS
|
CONTACT
|
LINKS
|
SF050
Art Of Burning Water
Head Of The Tempest LP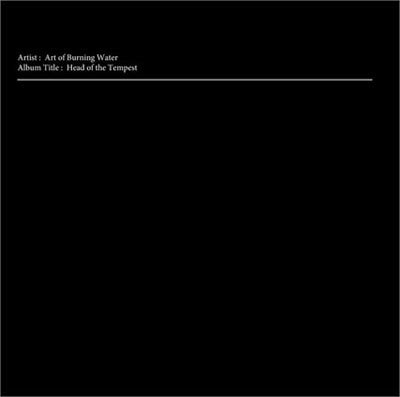 1. Head Of The Tempest
2. You Discussed Me
3. Dear Lord...
4. Avoid All Windows And Oceans
5. Embrace Your Density
6. Mike Over Matter
7. Because Each Day Must Pass
8. Gorilla Monsoon
9. Toymaker
Art Of Burning Water were born out of the 'white flats' of Hanwell (W7) and the pre-gentrified homes of Hammersmith (W6) in West London in 2001. The sound of suburban alienation and misfit isolation forged an awkward visceral sound that was too punk for the metallers, too noisy for the arthouse crowd and too weird for seemingly everyone else. AOBW continue to plough their own furrow despite personal injury and often chronic disorganisation. with self-promotion taking a back seat to the importance of sound creation to combat the often ugly hardships of everyday living.
Like Slayer gone sludge, AOBW channel the prime noise-rock of vintage Zeni Geva and Godflesh with the more complex rhythmical riff obsessions of the Melvins, Keelhaul and mid-period Voivod. In saying that however, AOBW also adhere to the original punk philosophy of 'anything goes'. There are no restrictions. Punk isn't about Discharge (as good as they were and are), studded belts and crusty bum flaps. Punk is the heart to tell the narrow minded to get fucked.
"Head Of The Tempest" is the difficult second album following a lengthy post-production period, continuing the tightly-wound diamond-hard songwriting skills from the early days.

Released 01/10/09.

Co-released with:
Hate Life
Ltd. to 300 copies on black.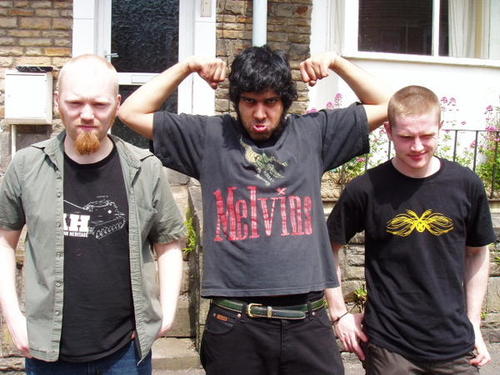 Art Of Burning Water | Jason, Geith, Mike |
Bandcamp
|
Facebook
Ninehertz
Art Of Burning Water are still alive, no they didn't melt from their overexposure to the riffs that made up their last album The Voyage of the Pessimistic Philosoph back in 2006, but have shed their former bassist Jason and found a new one in the form of Dave Cochrane (Head Of David member don't you know?). Jason plays on this release however as it was recorded back in 2007, but only released now (for shame!). Still a three-piece then, but how do three people make such precision-cut music? Well I have no idea, but it's still incredible and unpredictable. If you take Remission-era Mastodon and imbue them with a British sense of humour (song titles include Mike Over Matter and Gorilla Monsoon) you get an idea where AOBW come from. Those riffs I spoke of haven't cooled in the 4 years since their last release, eastern-tinged and as satisfying as they have ever been, the execution of them brings to mind Burnt By The Sun or the late, great Human Remains, off-kilter and just insane. The drummer in this band is just incredible, never staying in a similar place for too long, his rhythms give a snake-like quality to all the songs here, jerking, sliding and convulsing with a different kind of energy, unlike anything else being played by similar bands at the moment. Vocalist Geith still sounds unhinged, alot of his spewings here recorded on what sounds like the other side of the wall to where he is, he sounds angry, but I bet he isn't. This is an incredible release from an even more incredible band, its just a shame it's taken four years to get to us.