|
NEWS
|
RELEASES
|
STORE
|
GIGS
|
CONTACT
|
LINKS
|
SF085
Skylark
LP2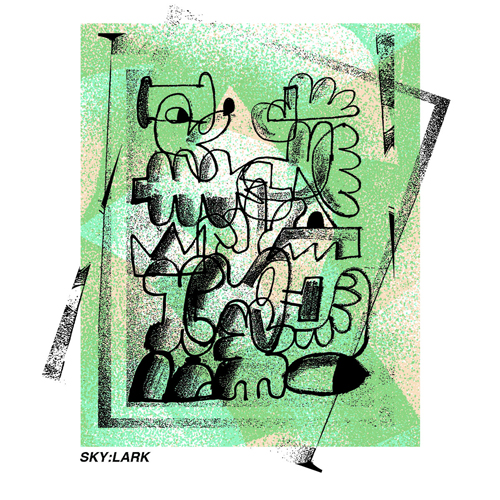 01. Inner Ear Destruction
02. Trilogy 1: Waterloo Teeth
03. Trilogy 2: Turing Dream
04. Trilogy 3
05. Big Rig
06. Lam Elisa
07. Sovereign Primate
08. Mouth/Wound
09. Scenic
Sky:Lark! is a power trio truly worthy of the name. Their second LP is a healthily noisy post-hardcore racket, like Shotmaker, Fugazi, Karp, Hoover and the like, though they transcend their influences to make something all their own. Occasional blasts of sax abound to keep you on your toes. This is the heavy, twisty and weird, like the band members.


Release date 20/06/16.

Co-released with:
Boslevan
(UK)
Deadwood
(DE)
Dingleberry
(DE)
Ltd. to 250 copies on black.
Routine Stomps
Few 7?s in recent years have been as rad as the Meadows / Sky:lark split on SuperFi in 2014; the Meadows side has two of their best back-breaking riff stampedes, the Sky:lark side so sharp and vicious sounding, with plenty of warped unmelodies and perversely catchy breaks. Of the two equally spot on bands, Sky:lark have been first to issue a hefty amount of new material in this LP, and itís great to hear them challenging their previous template and still retaining all that nasty bite of their work so far. Passages of untamed saxophone blaring open and close shop on LP2, and between those two points Sky:lark introduce you to an excruciating and complex style of post-hardcore, not dissimilar to aspects of the last KEN mode album, but with a wicked tendency to untangle their pedantically heavy grooves in to beautiful guitar leads. ĎBig Rigí lures with a cheery Minutemen bass that bounces in to a flailing breakdance of drum fills and whirlpool shredding. ĎLam Elisaí sounds like Ravachol covering Modern Life Is War, with some nifty staccato riff chopping straight out of Joeyís Kitchen. Often the tone takes dark directions, harking to distorted experimenters like Hoover and Engine Kid, but LP2 is adventurous, aggressive and skilled enough to warrant many years of repeated listens. I hope. Only been out a few weeks.
This Is Our Noise
Sky:Lark has always existed on the experimental fringes of punk and LP2 opener Inner Ear Destruction is the perfect way to illustrate that point. Forceful guitar gives way to a Saxophone playing improv-jazz on a bed of feedback and rousing instrumentation that occasionally gets heavy and fast. Iíve just read that sentence back and it sounds like the description of a meal in an up-market restaurant. Sorry! Trilogy 1: Waterloo Teeth contains a nod towards Ennio Morricone. It also captures Sky:Larkís punk craziness perfectly. Much like kindred spirits Big Machine, Sky:Lark donít follow a set blueprint. Trilogy 2: Turing Dream is filled with metallic guitar and slow/sludge-like tempos in places, while the brief Trilogy 3 doesnít linger for long but still rages. You donít get much of a chance to settle into your groove while listening to this. The hefty bass-lines of Big Rig remind you of an out of control wagon train, which is quite apt as Sky:Lark smashes through it in less than two-minutes. Post-hardcore/screamo makes an appearance on Lam Elisa and itís presence brings to mind the likes of At The Drive-In, Sparta and Million Dead (remember them?). Comparisons aside, this is crafted brilliantly. Gorilla God follows in the same vein. The semi-clean vocals sounding like the call of early-man, while the guitar work invoked images of Western saloon bar brawls. Mouth/Wound is one of those songs that you could climb to the top of a mountain and shout to. Itís short but it really hits the spot. Talking of mountains, itís left to Scenic to round out the madness. Equal parts hardcore-punk and arty grind, Sky:Lark provides one final glimpse of their skewed genius. Saxophonist Kye makes one final appearance too. This album is the perfect bedfellow to the mixed-up world we live in. Uneasy yet weirdly soothing are the words I would use to describe it. Take a punt, itís good!