|
NEWS
|
RELEASES
|
STORE
|
GIGS
|
CONTACT
|
LINKS
|
SF093
Nothing Clean / Higgs Boson
Split 7"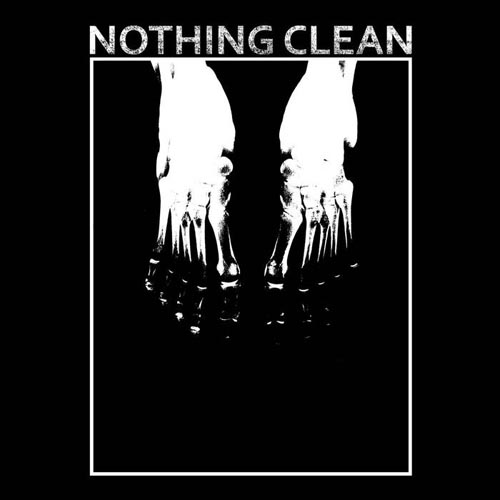 N1. Piss Prism
N2. Froth
N3. Self Appointed
N4. Lust For Life
N5. Like A Dog
N6. Heads
N7. No Immunity
N8. Pulling
N9. Outlook
H1. Life Is Real
H2. Gutter Edge
H3. Cumshots
H4. Pumping Iron
H5. Sick/Tired
H6. Nonsense
H7. The Girl, The Woods, The Blade
H8. Snails
Nothing Clean are straight out of Leicester in the middle bit of the Shittish Isles, and make blisteringly fast, quasi-grind powerviolence stuff that is constantly on the verge of collapsing into total and utter chaos. Rage and fury positively vents from their spleens. Members have served time in bands like Hangover Heartattack, Meatpacker and Mangle.

Higgs Boson are straight out of Oslo in Norway and make reprehensible, barely comprehensible powerviolence as well, with a tighter, catchier fastcore feel to it. Melodic yet real nasty with it.

Seventeen tracks in way fewer minutes for four quid (not including postage), or download it for free. Bargain.

Released 05/03/16.
Co-released with FHED, Glass To The Face and Samizdat.
Ltd. to 300 copies on black.
SOLD OUT
Echoes And Dust
Seventeen tracks of hate filled and chaotic powerviolence that flys by before you get a chance to catch your breath is the order of the day here with both bands on this split, Leicester's Nothing Clean and Oslo's Higgs Boson venting their spleens over pure and nasty blasts of grinding noise all under a minute in length. Nothing Clean (who feature members of prominent Leicester bands Meatpacker and Mangle in their midst) crash their way through first of all, racing their way through tracks like 'Piss Prism', 'Lust For Life', 'Froth' and 'Like A Dog' like a band possessed. These tracks are all prime slabs of fast, violent and noisy fun, while on the likes of the riffy 'Pulling' and the furious 'No Immunity', an energetic, but nasty vitality is evident with echoes of classic hardcore and this is all done with an air of hatred prevailing. When Nothing Clean finish with 'Outlook' you will feel intensely energised at the spite you have just listened to. Higgs Boson are no less of an intense prospect and as they launch into 'Life Is Real', you know that this lesson in violence is far from over and their brand of powerviolence with a melodic bent is just as harsh particularly on the atmospheric and menacing closing track 'Snails', the savage 'Pumping Iron' and the truly hateful 'Nonsense', while 'Gutter Edge' and 'Sick/Tired' are brilliant blasts of abhorrence. This split release is a brilliant introduction to Nothing Clean and Higgs Boson and both are definitely ones to look out for, both on this 7? and in a sweat filled live environment. This is intense music from two intense and promising bands.