|
NEWS
|
RELEASES
|
STORE
|
GIGS
|
CONTACT
|
LINKS
|
SF104
Nazi Killer
s/t 7"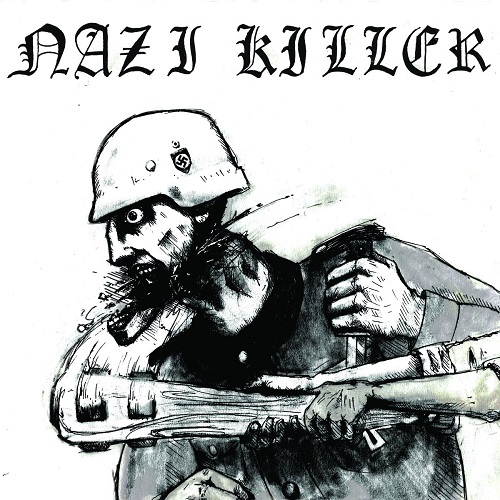 01. Find Our Way
02. It's Your Fault
03. Outta My Head
04. Already Dead
05. Mummy Said I'm Special
06. Your Life Is Over
07. Animal Lover
08. Right On
09. Bubble Life
10. I Don't Like Anything Anymore
11. This Could Be Anywhere
12. Choice
13. Every Day
14. Poppy Fucker
15. I Don't Need This Shit
16. Fix
Hardcore fucking punk rock from Leicester featuring members of Nothing Clean and Mangle.


Release date 20/09/18.
Limited to 500 7"'s on black vinyl.

Co-released with:
At War With False Noise
Gronk
Kids Of The Lughole
Nuclear Mind
Samizdat
The Quietus
The drawing of an inhuman, weapon-wielding behelmeted fascist on the cover of the debut seven-inch by Nazi Killer might remind you of D.R.I.'s Violent Pacification single, and the spectacular brevity and ballistic chaos might remind you of that band's preceding Dirty Rotten EP. None of these 16 songs, released collaboratively by an impressive seven labels, reach a minute, most are under half that and it's pressed at 45rpm. From Leicester, Nazi Killer share heads with Nothing Clean and Mangle, whose respective takes on powerviolence I've reviewed in past columns; despite that, and the track lengths, this isn't PV as such, more super-intense hardcore. Which I appreciate sounds like narcissism of small differences, but this feels in the lineage of 80s speedfreaks like Lärm, Protes Bengt and Neos, just with way thicker production. Lyrics are, in the main, boiled down to the strictly necessary: "All / You / Do / Is / Perpetuate" declares 'Poppy Fucker', as laudable a title as Nazi Killer is a band name.