|
NEWS
|
RELEASES
|
STORE
|
GIGS
|
CONTACT
|
LINKS
|
SF002
Houston / Babies Three
Split 7"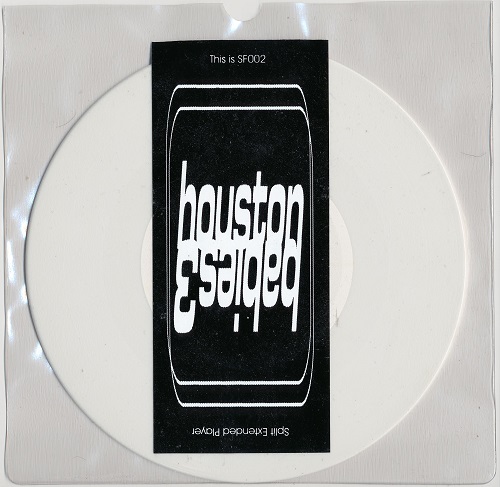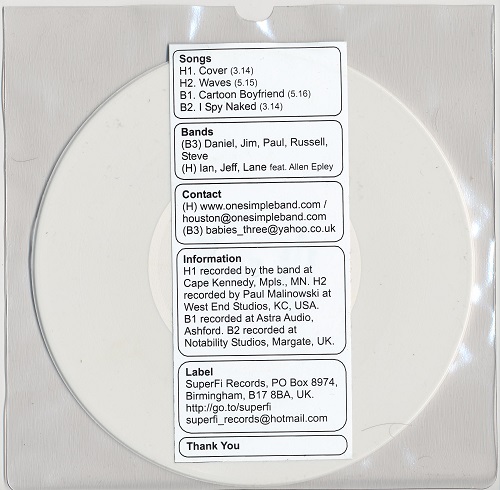 H1. Cover
H2. Waves
B1. Cartoon Boyfriend
B2. I Spy Naked
Stylistically, Houston shared a lot of common ground with bands such as Shiner and Jawbox, all tricky and fascinating musical arrangements, yet still with a massive sense for a damn good tune. The band contributed a song from each of their self-released albums. The Babies Three were a UK five-piece that made their name with their then-trailblazing mix of screaming hardcore and emo fragility, managing to squeeze out a couple of albums and EPs and touring Europe. They contributed a track from their second album as well as an unreleased instrumental. This record was hand-stickered on both sides too.

Released 01/06/00.
SOLD OUT
7" ltd. to 500 copies on thick, white vinyl.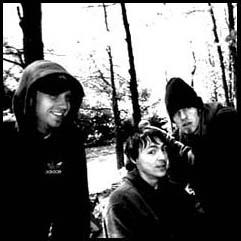 Houston | Ian, Jeff, Lane |
Myspace
Babies Three | Daniel, Jim, Paul, Russell, Steve |
Bandcamp
Fracture
The first Houston track is fantastic, very original in sound and structure, with maybe a little Sensefield sensibility thrown in.... Babies 3 are one of the best UK hardcore bands doing the rounds right now and don't disappoint with their two contributions.... comes on nice thick white plastic and is worth picking up, even solely for the first Houston track as that really is a cracking song.

Dance Of Days
The Houston side starts with a totally Shellac sounding bassriff and later on turns into a Quicksand meets Radiohead meets Tool atmospheric, almost industrial sounding style. 2 really enjoyable songs though. The band comes from Minneapolis and are friends with the amazing Shiner. (Allen Epley even has a guest appearance on this one too!). The Babies 3 are nice people from Margate/England. I met them once so I know what I am talking about. Their first song reminds me of Grade and Serene, while the 2nd one is a laid back instrumental. Good production though, which isn't something you can take for granted in the UK, unless you are fuckin' Oasis. Comes on thick white vinyl - yummy!!!