|
NEWS
|
RELEASES
|
STORE
|
GIGS
|
CONTACT
|
LINKS
|
SF009
Snowblood
The Human Tragedy CD / LP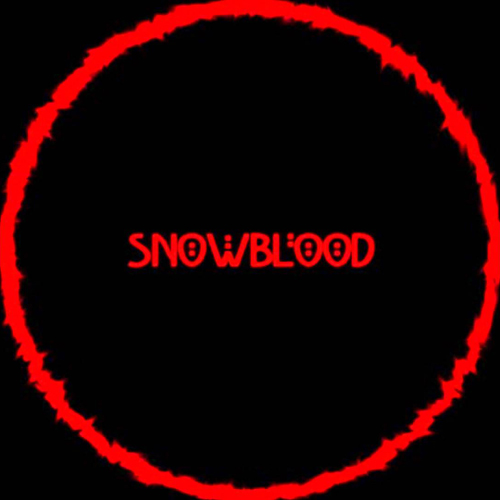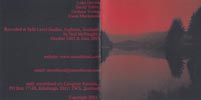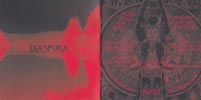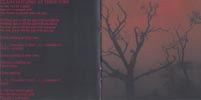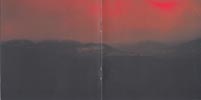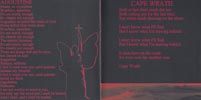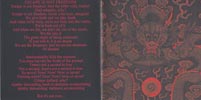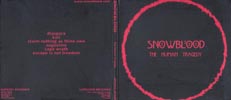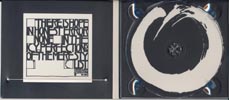 01. Diaspora
02. Kali
03. Claim Nothing As Thine Own
04. Augustine
05. Cape Wrath
06. Escape Is Not Freedom
The Scottish quartet's first release. Epic Godspeed-esque build-ups with crushing Neurosis-style payoffs, with much in the way of dynamics and a fluid flow between movements.

Released 01/05/04.
SOLD OUT
Ltd. to 420 heavyweight LPs. The CD version came out on Lawgiver Records.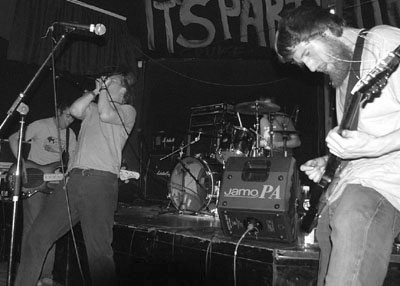 Snowblood | Ewan, Tobin, Youngy, Luke |
Myspace
Metal Ireland
Based on Snowblood's performance at Warzone Fest 2003 and 'Kali', (the most frequently played MP3 on my computer over the last year), I was expecting an album full of precision sludge in 'The Human Tragedy'. I was wrong. Instrumental opener 'Diaspora', for example, is strangely reminiscent of Floyd's 'Set The Controls For The Heart Of The Sun'. This mellow style exists throughout, especially in 'Augustine', which waits until the end before bringing out the guitars and screaming vocals. My reference points for their quieter material are limited, but Fugazi's 'Instrument' sprung to mind immediately. 'Kali' is short, sharp and based around the simplest of riffs. 'Claim Nothing As Thine Own' is incredibly heavy, and reminiscent of Japan's 'Green Machine'. But it is 'Cape Wrath' that makes you realise how special this band is. The beginning section of the song reeks of Godflesh. Gentle guitar and drums then fade in, with clean vocals accompanying the music throughout the rest of the track. Its apocalyptic climax shocked me the first time I heard it. This is definitely one of the best songs I've heard recently. Album closer 'Escape Is Not Freedom' is the most relentless song on the album, and it showcases the range of extreme vocals on the CD. 'Snowblood' returns to Ireland in July for a few gigs with Dublin's 'Easpa Measa'. I strongly recommend you catch them live and pick up this CD. It's the best UK release this year. 4.2/5.

Raw Nerve
I had been waiting a very long time for this since I first heard the song 'Kali' and saw Snowblood at the infamous Bradford 1 in 12 Club. The digipak packaging and neat Neurosis-esque booklet made this even more intriguing, and the opening three minutes of dark ambience of "Diaspora" hooks me even further, the touches on guitar as it progresses make things ultra tense, before the familiar strains of the familiar "Kali" set the heart racing, amazing brooding structure, simple but warped timing and luscious sound. "Claim nothing as thine own" is definitely from the "Through silver in blood" school. With twisted vocal sample, delicate music, haunting voices and ghosting drums, this builds into something purely demonic. Just wait until you hear, at the 150 second mark, the riff that drops in, almost from the slower Morbid Angel spectrum of thought, and the deep, tormenting backing vocals. Horrifyingly good. Snowblood combine sludge and stoner ideas of the Grief, Noothgrush and maybe Crowbar style with the epic noisecore goodness of Ire and Breach. Unexpectedly, around half this album is quite chilled rather than heavy and it works well. The mood of "Augustine" is almost murderous, waiting six minutes before turning heavy and unleashing itself, and "Cape Wrath" spends most of its time playing with one fantastic harmonics driven idea, almost akin to Palehorse and more recent, lighter Godflesh, with an overall "nice" feel for its 9 minute life, before the sickeningly disturbing closer "Escape is not freedom", which has quite possibly, the oddest and most incredibly unique riff I've ever heard, featuring chords I've never heard used before, and more of the Mortician depth vocal rasps. Inspired and brilliant. A marvellous song to close a long awaited CD that is as good as any expectations. Snowblood combines the harsh hypnosis of Isis and Neurosis with a sound similar to Botch, complete with some subtley clever timing deformities. They emit such a huge sound and are packed with ideas. This album really does do the band justice.

Collective
It feels odd to finally be attempting a review of Snowblood's debut album. It's been recorded for ages and I've become very fond of it in that time. Now finally as Snowblood stomp around the country on tour, both the vinyl (Super-Fi) and CD digipack (Lawgiver) versions are finally released. Glasgow's Snowblood deal in contrasts. They offer up monstrous slabs of crushing hardcore that break down in to quiet plaintive passages of drifting calm. "Diaspora" is a subtle prelude. A dark ambient swell, cut through by an eastern style guitar piece. This fades way to the brutish thud of "Kali". Pounding guitar and drums thump along with occasional vocals stabs, on a muted grind, gradually picking up weight and cranking up the tension. Just when you can't take much more it blows a fuse and burst into a torrent of traumatising ferocity. The whole track crackles with intent. "Claim nothing as thine own" follows in complete contrast. Jazzy guitar and dub style bass with hushed vocals, giving you a moments respite. Of course, as sure as Weegies hate soap, its followed by a swift mauling of vicious hardcore before it breaks into a full on Sabbath style doom rock out and returning to the quiet intro for its end. It's a strategy that Snowblood use variations on throughout this record. Drawing you in with the gentle subtlety of their quite passages, then caving your skull in with a brick when you get to close. "Augustine" drifts along in a melodic passage (that my mum says is really very good) for a good six minutes before it throws the toys out the pram and hits the roof. My mother is not so keen on this part. The crescendo of this track is particularly bloody. Full on pit of the stomach growling, which to be honest is quite scary. "Cape Wrath" is opens with a distorted harmonic riff that repeats in slowly building then giving way to an almost Mogwai-esque section, with vocals floating in and out of the mix. "Escape is not freedom" tears the roof down as a grand finale, a juggernaught propelled on some dense Eyehategod like riffage. The lyrics and artwork reflect a sincere interest in some spiritual/elemental ideas, which although not expanded on, ties up the whole record with a sense of purpose. Both the lp and the digipack are nicely packaged. They took their time recording this and it really shows. It sounds massive as it rumbles out the speakers. There's also a refreshing breadth of stylistic variations in both the heavy and quiet sections which are enhanced by subtle use of effects. It's always great to hear good stuff from within the UK, even better within Scotland and Snowblood have produced one of the most accomplished British releases in years.

Mashnote
Thou shall bang your head! Snowblood takes no prisoners with their dirty sludgecore that sounds pretty fucking evil to me (and so is the artwork from this CD. Must be the fog of Scotland). Do not expect too much fancy and pretty parts like Isis or Switchblade, but a more negative atmosphere reflecting doom and destruction. Neurosis and Noothgrush come to mind. Overall Snowblood overwhelm not so much, but creates uncomfortable tracks with a metallic background. Long songs, but enough variation to keep you interested. The singer sounds pretty sick, but there are a lot of times when he sings. Pretty haunting and disturbing. I was also intrigued by the lyrics and found a couple nice lines like: "and when we die, we don't die out of the world, we die into it". These dudes kept the best song for last since I thought "escape is not freedom" is so devastating. I just love how the singer totally goes "WHAA YA YA YA YAAA WHAAA!!" followed by a totally sweet breakdown and an AWESOME metallic riff. I imagine myself this band playing the Garaach here and totally destroying the place by just playing one second on the bass guitar. Soooooo heavy. I love this shit. Exciting to hear bands like this. This is also available on vinyl.

Mindspell
Taking a page in the book of Isis, Tarentula Hawk and Switchblade, Snowblood take some of that inject a nice amount of doom metal and a bit of their own sensibility and create something that is very interesting. The Scottish quartet use every trick in their book to create as much atmosphere as possible as well as injecting quite a bit of heavy riffing to please the metalhead in you. For those not appreciating the joys of the headbang there is plenty of other material to appreciate here. Instrumentation is the basic rock format with the addition of electronics that are not used very often but with great effect. Vocals are either sung or screamed, mostly metalcore style. With a superb packaging (digipack and artwork is outstanding) and quality music I can only recommend this record to everybody.

Hardcore Times
One of the most interesting bands I've heard out of the UK (they're from Glasgow, Scotland) in a long time. A mix of Neurosis/Tribes of Neurot, Iron Monkey and their own unique sounds. The album ranges from being almost indie to insane deathsludgecore! This is definitely the most interesting and innotive release outta the UK this year. Not one for everyone due to its, ehhh eccentricity?!, but yeah, its good. 6 tracks in 36 minutes. Weird, interesting, insane sounds from these Glaswegians! Irish readers might have caught them at the Warzone Fest in 2003, or with Easpa Measa last July, unfortunatley I didn't. Nice artwork and digipak too, simple but effective.

Stonerrock.com
It's not everyday that an album comes your way from a band that you have never heard off but, after very brief research has you wondering what they are all about. Snowblood are a four piece that hail form Glasgow in Scotland, yet, after listening to it quickly I thought I had just picked up the soundtrack to my own personal journey trough hell. The band obviously has taken their time in recording this album since the production is near faultless and the musical interaction is superb. Taking influences from a broad spectrum of genres such doom, hardcore, emo and sludgcore I really couldn't pinpoint a band to which I could compare them to. At their more brutal times, influences such as Isis or Switchblade are undeniable, yet surprisingly, a lot of their album consists of quite, acoustic and very melodic parts, over which very soothing vocals are laid. The album starts off with a three minute intro which reminded me of Pink Floyd's "Set the controls for the Heart of the Sun," only to be destroyed by "Kali," a brutal, simple riffed doom killer. The vocals reminded me of earlier day Carcass, yet throughout the more mellow parts the vocals are distinctively good. Track four, "Augustine," really stands out as an already to be destined classic. It starts off with a beautifully acoustic part, which has a near melodic quality to some of the earlier Alice in Chains songs, and while you are being lured into the beauty that is "Augustine," it rips your soul out with a bone crunching, mid tempo doom/ death metal riff. Throughout the whole album, I kept noticing how good this band is. Musically speaking, I don't think that we've seen the best of them yet, but already they have their genre down to a T. Production wise, I am impressed. It sounds like it came straight out of a major label studio with Rick Rubin behind the desk. There isn't really anything I can fault these guys, yet somehow I am feeling a little empty after listening to The Human Tragedy. It might be the fact that despite its quality, it is not necessarily new, and thus not such a milestone that it could well be. Nonetheless, one cannot expect a masterpiece every day, and hence, The Human Tragedy is amazing.

Inside Knowledge
Snowblood from Glasgow, Scotland… I had never heard of them. But now I have! Man… These guys bring some brutal music. It reminds me of Isis because of the heavy guitars, but Snowblood doesn't sound exactly like them at all. About half the album consists of quiet, somewhat strange parts, eventually leading back to heavy distorted guitarwork. It takes the band 40 minutes to play their six songs, after which I'm sure the throat of the singer must hurt. Man, does he do some brutal grunting and screaming. The artwork of this album looks dark and 'evil', with a lot of black and red, and pictures of foggy Scotisch landscapes. If you've never heard of this band, you might want to check them out. You can download a song of this album on their website, www.snowblood.com.

Organ
Nice artwork makes for a warm glow of hope as we insert the disc into the hungry slot. Dark rumbling warm minimalist stoner / sludge bleakness with a tendency to erupt now and again. Snowblood are from Glasgow. Drenched in slow slow post-rock atmosphere and old school stoner doom, delicate passages of almost ghostly silence laces with an Iommi riff or two. Plenty of light and shade (well maybe different shades of dark). This is rather good, they approach it from angles that aren't too far away from the adventures of Neurosis or Godflesh or Isis or indeed a sludge metal Mogwai.

Thrash & Burn
Not often do you get an album by a totally new and unknown name and once you start listening to it you're blown away by them. I was totally unaware of Snowblood until I got hold of this full length, and this happened to me. In short, Snowblood are the grim and gloomy soundtrack from the Scotland heights. The band obviously has a lot to owe to old masters of gloomy metallic music. But using elements of doom, emo, hardcore and metal plus building up pure acoustic melody on top of all that Snowblood definitely have unique sound of their own. They widely make use of non-traditional rhythm change and especially guitar riffage, melting away into a more experimental direction while the brutalisty and melody is always still present. In close comparison I find a lot of similarities to Isis for the melodic parts and maybe hints of Switchblade or even The Dagda in the brutal chaotic parts. Surprisingly a big part of the album is purely acoustic, with a subtle guitar melody and lower end clean vocals, especially the fourth track "Augustine". And right after the mellow passage Snowblood engage in to an incredibe all-out metallic breakdown with brutal growling vocals. This 36 minute debut album doesn't really bring all their potential to to the public yet, so their finest hour must still be ahead of us. Awesome.

Mass Movement
From the start, I'm impressed, good choice of name (similar taste in cinema obviously), wicked cover, nice sleeve booklet layout and then to the CD. Doesn't disappoint, it is the calm before the storm and then the storm. The sound goes from stark and almost nothing to mayhem seamlessly, beautiful soft flowing clever calm music all of a sudden opens up the harsh distorted slow grinding start stoppy beats straight into amazing fast swingy tempo almost Eyehategod-esque riffing with one of the best screams I've ever heard and then all of a sudden gives way to all out doom and then the same again all jumbled round. I can't compare this to anything at all or put into words a description that this album deserves. It is something special to say the least. Unmissable for anyone with taste.

Crusher
Snowblood is a Scottish metal clan whose crusty blend of metalcore, stoner rock sludgery and Neurosis-esque hypnotics ooze out six tracks of raw aggression. Stick to your ribs guitars found on tracks like "Claim Nothing as Thine Own" are commonplace here, as are tortured vocals, menacing rhythms, and a plethora of dynamic dips from doom to groove that puts you on the front car of this whacked-out roller coaster ride.