|
NEWS
|
RELEASES
|
STORE
|
GIGS
|
CONTACT
|
LINKS
|
SF038
The Mock Heroic
Dignified Exits CD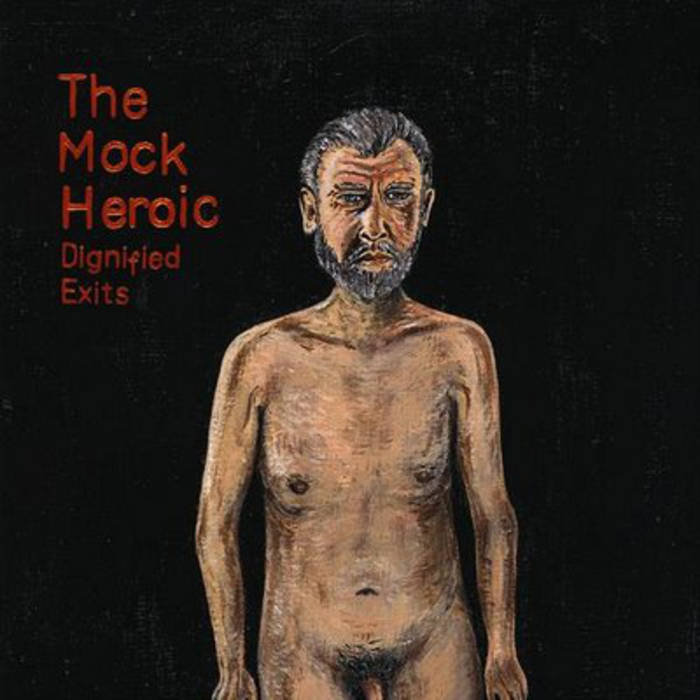 1. Own Eyes
2. Despair Epidemic
3. Led Astray
4. Draize Test
5. The Architect
6. Fairweather
7. On The Study Of The Living Dead
8. Unclouded
9. Mandelbrot As Cartographer
10. An Open Wound
11. Lost Cause
A young but deadly serious band taking cues from the classic 90's emo bands but adding a vicious, experimental, technical edge that keeps things edgy but heartfelt.

Released 12/05/07
SOLD OUT
Limited to 500 CDs
Hellride
This is a wild release from the UK's SuperFi Records. The Mock Heroic treads a number of waters that can easily drown a lesser act but they manage to come out on top due to their energetic performance and unique song-writing. This is weird music that reminds me a bit of Red Stars Parade, Pg. 99, City of Caterpillar and Botch in a blender. It is dissonant hardcore that draws additional influence from noise-rock and jazz. The band blow through 11 songs in a brief 23 minute running time and manage to leave an impact even if they don't stick around that long. A few of the riffs even work in a bit of melodic post-punk influences which reminds me of the more experimental songs by Akimbo occasionally. So, there is a lot going on with this record despite the short length. The arrangements are nervous balls of energy that switch time signatures often with spastic rhythms that ebb and flow beneath the insane guitar shred. The vocals are high-pitched screams that can go in the vein of pretty much of all of the above mentioned bands. The static buzz of "Own Eyes" builds up a rising wall of noise that is mostly broken amp feedback, fractured riffs and off-kilter screams which leads into the first "normal" track "Despair Epidemic" that milks the cow of twitchy hardcore while maintaining enough structure to allow riffs and beats to clearly shine through. It is that same kind of explosive hardcore that Pg. 99 and City of Caterpillar deliver but with a hint of jazz and ball busting noise-rock in the mix. The music here really moves, creating memorable song composition that keeps it from falling into the realm of a one trick hardcore pony. The band isn't afraid to pull back on the throttle either as the crash n' burn antics of "Led Astray" show two distinct sides of The Mock Heroic; side one being their normal blend of schizophrenic madness and side two showing them working with slower, more melodic tempos. The shift from speeding aggression to more subtle texturing works surprisingly well and I'm sure that a lot of bands in this vein couldn't even attempt to pull something like that off. In fact this side even takes over full-time in certain instances. The creeping presence of "Draize Test" never truly picks up speed. The first half of the song maintains restrained with the caustic screams bleeding out over a foundation of haggard, noisy chords that carry an odd sense of harmony with them. Thereafter they hint at a total cacophony but decide to keep things more low key making for a foreboding, slow-burner of a song. The grinding noise of "The Architect" is another track that shows off their deceiving multiple personalities. The song begins with piercing, melody driven riffs that soon turn into a display of knife to the throat aggression. These melodic riffs eventually come back later in the song and their execution is hugely memorable. I'm talking melodies that sound more than a little bit weird but somehow give a gentle edge to their padded room outbursts. The thick bass groove of "Fairweather" helps add a bit of additional weight to a song that is more of a psychotic noise explosion than anything else. I feel more than just a hint of the NYC backstreet brawl in this song which carries over into the jagged "On the Study of the Living Dead" that takes aspects of melody into consideration while sticking to an apparent focus on messy, jilted riffs that take several noticeable changes in speed and tone. It is a kind of an unholy Unsane meets City of Caterpillar kind of collaboration of sounds that is downright threatening in delivery. The album continues on overdrive until the brooding close of "Lost Cause" which is a light and dark affair that toys with a good variety of "post" elements while still adhering to punchier moments of gut-wrenching, noisy hardcore. This song also marks a much elongated affair for the band (just a shade over the 4 minute mark) as the entire catalog of material on the record hovers in the range between 51 seconds to just under the 3 minute mark. This is another winner for SuperFi Records who seem to have a damn good handle on what kind of noisy stuff the public needs to hear. While The Mock Heroic probably won't please everyone reading this review; fans of hardcore that is effortlessly melded with the jazz, noise and "post" genres should give this record a shot. I was won over by the entirety of "Dignified Exits". It hits hard and fast with just enough melody and weird overtones to keep it exciting at all times. This is a good album for listeners that hear the term hardcore and think of off-kilter, disjointed music that stretch boundaries not mosh-friendly, chunky breakdowns.

Die Shellsuit Die
Another quality slice of British noise from the always spot on Super-Fi Records (That's not just because they released my band's album either!) in the form of The Mock Heroic and their angular racket of discordant guitars, strangled yelps and topsy turvy structures. Coming more from the Swing Kids, Blood Brothers, Pg.99 end of the hardcore scale than any metal malarkey its pretty nice to hear someone taking those influences and creating something that has a life and character of its own. You really don't notice how many tracks have flown past your ears while listening to this, the whole thing deserves attention rather than single tracks. Opener "Own Eyes" rolls in with its discordant and melodic guitars and then you're off. Drums swap between frenzied clattering and jazzy shuffles to keep up with the turn-on-a-penny song structures while Connors gasping vocals yell and squeal over the resulting noise. I could throw loads of names around of who they sound like but it would be defeating the point somewhat. Suffice to say it's an awesome recording that rightly deserves your time.

Drowned In Sound
Four-piece The Mock Heroic may call Norwich their hometown but they sound like the resident band of the lowest level of Hell, sound-tracking penance for the most heinous of crimes. Indeed, it's hard to know how something so fierce, so challenging, so unspeakably brutal, could come from such an unassuming location. But The Mock Heroic's brutality lies not just in their volume or velocity but in their delivery. Dignified Exits_ juts into unrecognizable shapes constantly, at the drop of a hat or a body, whichever fits better. Think Orthrelm picking over the bare bones of The Locust. Or some other juxtaposition of hardcore and sheer, unrelenting noise you care to imagine. Though the idea is obviously ludicrous at times it seems like different shapes appear on different listens, so foreign and incomprehensible are the epileptic squalls that compose the album. That the packaging offers lyrics (strangely prosaic) and explanations of each song does not take away from the hysterical sense of mystery; it only creates a more vivid image, a noose retying itself into knots more and more impenetrable. Picking a highlight isn't difficult, it is impossible: snippets of music ten seconds apart have as little common ground as those seven songs apart. In 11 tracks taking 23 minutes to unravel, The Mock Heroic have created a new blueprint for hardcore music, but it is a blueprint that spirals out and self-corrects itself with every passing second, walls stretching and floors giving way to mile-deep pits of inky black nothingness._ Dignified Exits _is an album for the few seconds before a car crash, when your soul begins its escape of the body and someone else's life flashes before your eyes.