|
NEWS
|
RELEASES
|
STORE
|
GIGS
|
CONTACT
|
LINKS
|
SF039
Army Of Flying Robots
Life Is Cheap CD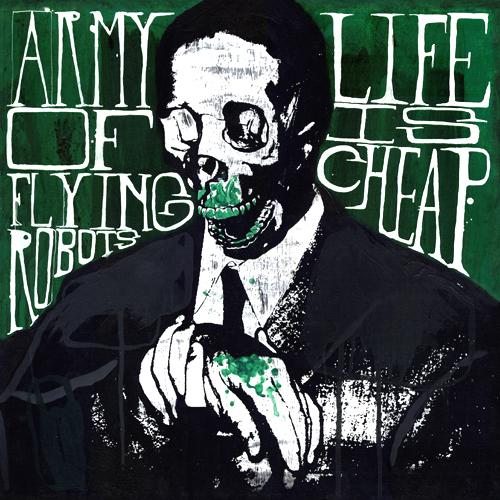 1.-
2. Drown
3. How's That For A Kick In The Cunt?
4. Tamerlane's Example
5. Salt
6. Fimbulvetr
7. Embodiment
8. The House Of Butterflies
9. In Hell
10. In The Shadow Of Swine
11. Many Tanks Make Light Work
12. Black Hole In One
The one and only album from Nottingham's evil emo-violent thrash hardcore mob.

Released 01/09/07.

Ltd. to 1000 CDs.
LP released by Feast Of Tentacles.
Art by
Carp
. Layout by
Diecast
.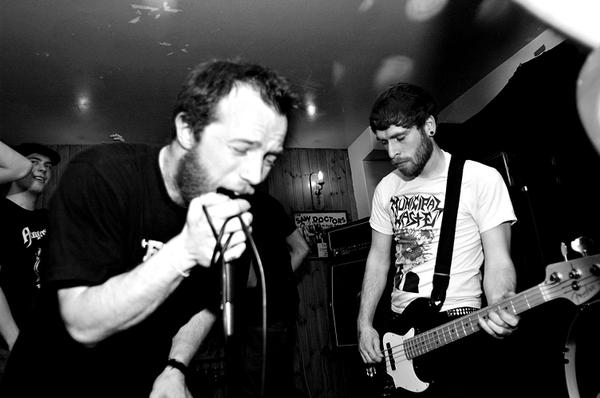 Army Of Flying Robots | Andy, Craig, Henry, Luke, Simon |
Myspace
Aversionline
"Life is Cheap" is the debut full-length from spastic UK outfit Army of Flying Robots on SuperFi Records, after a rather prolific run of splits and such that were collected on an early discography CD that I covered here last year. And to their credit, Army of Flying Robots is still not an easy band to categorize, as they simply cover so much ground. Their tracks range from one-minute bursts of explosive, grinding chaos to 4+ minute excursions through slower, more melodic territory that also touches on some darker, more dissonant riffing that has a more sinister, menacing undercurrent happening. As I mentioned in my last write-up on the band, I still hear some of that "chuggingly frenetic" Catharsis style (and this time around I'd probably toss a little Gehenna in the mix as well), along with a good dose of that "wild 'n' crazy" Acme riffing, and I can't not mention "screamo" with regard to the sheer intensity of the vocals, but also in relation to some of the caustic yet eerily melodic guitar textures that creep into tracks like "Embodiment" or "Fimbulvetr". The material is often heavy and chugging, but without coming across as something I'd comfortably classify as particularly "metal". But you certainly can't deny the presence of an obvious hardcore influence in many of the chord progressions and structural backbones, even if that influence is delivered in a rather mangled and nonstandard fashion thanks to the complete ferocity of the textures and noisiness of the delivery. It's curious shit, though, with - as usual - killer artwork, cool lyrics, and succinct song explanations that get to the point and put things across in a manner that I can really appreciate (even the socio-political messages are dealt in a sincere and personal fashion that really works). 11 tracks in 28 minutes, and there you have it. Normally my ears can be kind of picky about this particular style, but there's something about this band… they must really know exactly what the hell they're doing, because everything seems to fall right into place. Well done.

Die Shellsuit Die
One thing I find tricky about reviewing is comparing bands. Comparing bands is good because 70% of bands I review are unknown quantities really so comparing them to a more well known act is good because it means the reader can relate to that band and think "I like so I might like this record" The tricky thing is when you come to review a band that is well known because you run the risk of looking like an idiot. For example, Army Of Flying Robots sound a bit like Converge, in my opinion, but I imagine hordes of people who have heard AOFR and Converge will be like "No they don't you dick" but the person reading this who hasn't heard AOFR might go "I like Converge" go and buy this album and love AOFR, so its swings and roundabouts. Anyway...
"Life Is Cheap" is 11 tracks of unrelenting, noisy, fast hardcore. This record has the potentially to harm young children so please keep it out of their ears. Having witnessed AOFR live on a number of occasions I have to admit that this record is almost perfect in terms of the intensity that they produce live which is no mean feat. The intense and supercharged guitars tear through each and every track with some awesome riffs and some clever time changes and shifts in the pace of the songs. The drums aren't overly complicated which is good considering some drummers in this particular area of music try to overcomplicate things which just leaves everything sounding messy and horrible (Rainydayfuckparade anyone?) but this is gladly avoided on "Life Is cheap". The vocals sound a bit like the singer has been gargling glass and fire. The album is extremely aggressive throughout its entirety with the bits that are less aggressive getting kicked squarely in the nuts by something horrible aggressive shortly afterwards. All in all, a joy of an album but please be careful how you use it, in the wrong hands it could be dangerous. 8/10

Ninehertz
Army of Robots are like your favourite t-shirt... been around for nearly a decade, seen much action and reliable. Having gigged round the UK and Europe extensively for years now and thrilled crowds where ever they go. I always find it weird when people don't know this band. However, like tour partners Taint it's taken them 10 years or so to finally get round to making a full length record. They have released a few split 7" and 10" splits along with a compilation of all these released last year on the ever brilliant Super fi records. But now comes their full length and the wait has certainly been worth it. What is evident from the off is this record has been worked upon during the years of gigging round. Tight as a gnat's chuff and fully realised well structured songs. It's the sound of how hardcore should be played. Tempo changes form insane blasts to mid tempo breaks... it's a rollercoaster of a record. One comparison could be a less complex Converge I guess but this would really be doing the band a disservice... they are far from another one of the now numerate Converge wannabe bands. ...Robots are their own masters and have been for as long as I have known them. This is evident on the slow build into fast balls out hardcore of 'Embodiment' - my favourite track upon this record along with 'A Black Hole in One'... which has some of the best and intriguing lyrics I've read in a very long while. Recorded at the mighty Stuck On a Name studio my only complaint would be the vocals stick out a little too much... but then I like the vocals to sit a bit more pretty in the mix... I guess that's me being anal about it as this really is a cracking record and the vocals are delivered in true venomous fashion. The panning on the guitars is superb, giving a really big sound to the whole album. Along with Attack! Vipers! this band and this record really have re-gained my interest in listening to hardcore punk music and both have a healthy dose of metal to the mix. This CD also captures the feeling you get when you go to see this band live full of energy and vitally... 10 years in the making, but hell, the waits been worth it... lets hope its not another 10 years before the next one.

Hellride
SuperFi Records delivers the goods one more time with the debut album from Nottingham's Army of Flying Robots. I was familiar with a couple of songs from this band in the past but never got around to picking anything up. They have previously cut their teeth on various EP and vinyl releases building up an impressive resume in the UK underground. This is punishing, noisy metal that has its hands dipped into the punk, grind, hardcore and post-rock genres as well. It is an eclectic mixture of sounds that showcases unique guitar work that is able to fire off stylistic variety in a machinegun like manner. The sickening, screamed vocals are pretty nasty utilizing a high-register grind shriek that vomits the lyrics out with an undecipherable ferocity. The lyrics are actually really damn good too. They've got a social bite quite unlike any lyrics I've read lately with explanations given for each song that shows the band are really serious about what they do. Skillful songwriting throughout this record allows the band to take some surprising shifts into slower, even melodic waters. These moments are all the more striking because this record mostly moves with a raging pace that rarely lets up on the speed. "Drown" is an intro track of near silence that is shattered instantly by the gung-ho aggression of "How's that for a Kick in the Cunt"; a no holds-barred display of unrelenting grind-tinged metal, noise, hardcore and punk. This is the formula that carries us through the next three songs. The fervent emphasis on speed is also interjected nicely with riffs that the crust kids could circle pit too. Slower, stuttered parts also add to the overall heaviness of the music as the band emphasize on the crash n' burn fury of "Tamerlane's Example". It is with the song "Embodiment" that AOFR reveal that they have a few additional tricks up their sleeve. This song takes a bass line straight out of the noise-rock playbook to create a dense atmosphere while the rest of the instruments carve a brooding laceration of dynamic noise around the bass. Tension rises slowly for nearly two minutes until a full on punk/grind explosion shatters your eardrums into oblivion. "House of Butterflies" takes some interesting twists and turns as well. It begins with their usual penchant for total devastation but allows for a gripping melodic break that veers the track's course into slower, more melancholic territory. "In Hell" is another of the longer tracks but doesn't infuse any melodic dynamics. Instead the band takes a cutthroat punk/hardcore attack that stops and starts frequently with a gumbo of freight-train punk riffs that break off into a staggering, hardcore crunch. Although the breakdown in this song is littered with enough jagged dissonance to put these guys light years ahead of your typical, meat n' potatoes "core" peddlers. Their ability to rise above run of the mill hardcore fodder is also apparent on "Many Tanks make Light Work". This particular tune boasts the use of back-up vocals that are of the hardcore shout variety but the section of the song that makes use of that seemingly basic hardcore artillery is powered by such walls of psychotic noise that it never becomes in danger of sounding cliché. The sarcastically titled "Black Hole in One" is also of note especially its brief section that contains some of the album's coolest guitar work. It is just a simple, noise tinged lead bit but it has a tonality that my ears have a craving for (slightly similar to Unsane, so sign me up). A hidden track is also included and I'm not sure if it's a cover of someone else or an original by the band but nonetheless it is a show-stopping closer that has the more sprawling qualities of "Embodiment" and "House of Butterflies". This is another top-notch release from SuperFi Records. That label has got an excellent roster of noise-makers who sound nothing like one another. AOFR is a great addition to their catalog of releases. If you dig the capillary bursting hatred of bands like Today is the Day, The Swarm, Systral and Acrid there is a damn good chance that AOFR will be right up your alley. I've been spinning this one a lot lately and will probably continue to do so far in the future. Fans of nonstop intensity with a tendency for the avant-garde would do well to check this one out.

New Noise
AOFR hail from Nottingham and are five all-conquering noisecore heroes. When a glance at Myspace turns up influences like Darkthrone and Systral you know that Kansas has gone death metal, Dorothy's in bondage and Toto's eaten your face off. Showcasing the best of their work, so far 'Life Is Cheap' is a brutal yet seamless half hour run through of screamed vocals and pounding drums, with some hard thudding bass thrown in for good measure. It is a very tight album, professionally recorded and with strong lyrics that offer a healthy dose of anti-establishment bile. Indeed it is the lyrics that offer AOFR a way out of screamo hell. In 'The House Of Butterflies', the Robots touch on everything from lead poisoning and contamination to "death within a five day period" and the death of 49 standard oil workers. So they are political and have a social conscience as well as impeccable underground metal credentials, having released several EP's including one in 2005 shared with Taint. Metal to make you think – if you can decipher the lyrics.

Subba Cultcha
Army Of Flying Robots have made some waves in the UK hardcore scene over the last few years, and though they bear an excellent name, that alone is far from being the only reason why. As the new album "Life Is Cheap" ably demonstrates, if you can strip away the brutal veneer of the hardcore assault and listen to the ideas beneath, you will find an articulate and impressive band. Of course, if you can't listen beneath the hardcore presentation this is perhaps not an album for you – this lot don't do anything by halves, and "Life Is Cheap" is a blisteringly fast, furiously heavy record. So much so, it's possibly the aural equivalent of being attacked by the Yorkshire Ripper, though fortunately you don't have to resort to prostitution to experience it (yes, I am a bad-taste-monging little shite, aren't I?). Ultimately, this is a record they can be quite definitively proud of – and if you're into brutal underground hardcore and can track down a copy, my guess is that you will be too.

Exclaim
There is absolutely nothing mechanical about Britain's Army of Flying Robots; their feverish and impassioned shrieking psychosis is genuine in a way that only humans can convey. Though catalogued on a discography available through Super Fi, most are likely unfamiliar with their material to date, comprised mainly of vinyl-only releases and hard to find splits. Fans of the mid-'90s North American screamo movement will definitely appreciate their old school approach to creating something heavy that's still outside mainstream aggressive music. Their more metallicised and emotive moments are reminiscent of Orchid's delirious and heart wrenching distorted melodies, with many prolonged build ups leading to cataclysmic fits of rage. They grow from this core, transgressing into punk rock tangents and toying with the balls-out Converge approach to all things enticing and insolent. AOFR still need a little work but if this debut full-length means anything it's that you'll want to keep an eye on them in the future.

Mashnote
The first full length by one of UK's finest bands has the straightforward speed and harshness from powerviolence, the dramatic urgency of screamo and the tough chuggs from metallic hardcore. The overall feeling from "life is cheap" is one of anger and the songs all break out in a frenzy of raging punk. The fifth song on here reminds me about Army's earlier records like the one-sided 7". A couple of solid riffs with blast beats and one or two breaks that just pave the short way to the next batch of neck breaking chaos. Although it's a serious kick in the nuts, I can really appreciate the more varied songs from the band. For example "the house of butterflies" which has less blast beats, but defenitaly make sure the song has more body, emotion as you will. The vocals remain very rough and growling with little variation in tone. It would be very difficult to do otherwise, considering the speed of the average Army of Flying Robots song. The lyrics reflect the frustrated and angry music for a 100% and deal mainly with power structures in our society and the errors of the system we live in. I really like the way how the band explained lyrics by giving quotes from Einstein and Conrad to Wikipedia. Very thoughtfull indeed. These lyrics were even so interesting that I even wrote a new song myself, although my band has been dead for over two years. This CD/12" contains 11 brutal tracks and an intro. Good stuff.

Give Me Back
This has Great American Steak Religion written all over it. Like Uranus or One Eyes God Prophecy. Like the screamier parts of Orchid's 'Chaos Is Me' with more of a focus on being epic and metal. The lyrics are what really grabbed me. I havent heard metal with political lyrics since the days of Suicide Nation and Creation is Crucifixion. They have that slightly academic feel to them, written by someone with a passion for history. Slip this to metal heads as a gateway drug to critical thinking. Recommended.