|
NEWS
|
RELEASES
|
STORE
|
GIGS
|
CONTACT
|
LINKS
|
SF101
Nothing Clean
Cheat LP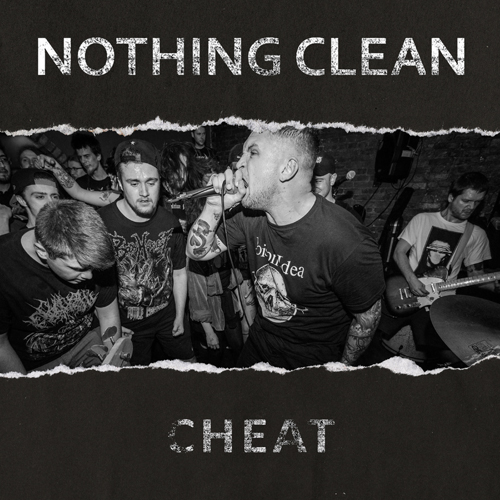 01. Zero
02. Contrarian
03. Rapid Eye
04. Abcessive Compulsive
05. Pulling
06. Heads
07. No Immunity
08. Lust For Life
09. Walk
10. Forgot To Let Go
11. Questions Asked
12. Hypochondriac
13. Dog Shit
14. The Last Lock Breaks
15. I Can Tell
16. Mud Children
17. Wear And Tear
18. Many Faces
19. Grief
20. Lye Soap
21. Segment
22. Piss Prism
23. Like A Dog
24. Visions
25. Simmer Down
26. Froth
27. Outlook
28. Thesis
29. Self Appointed
30. Marked
31. What I Do
32. Fetid
33. Self Help
34. Good For Me
35. Wash Day
36. Chaos Everywhere
37. Thought Crime
38. Spinal
39. Face In The Dirt
40. Linear
41. From Above
From the UK's blackened core (aka Leicester) comes Nothing Clean, whose members have spent time in such excellent outfits as Mangle, Hangover Heartattack, Diet Pills and Meatpacker. After a number of split EPs this is their first album proper, with some songs making a reappearance alongside brand new ragers. For a minimal outlay you get maximum bang for your buck with about forty songs in 20 minutes. Powerviolence is the word, bordering on grindcore at times. This is legitimately vicious, intense stuff, allowing itself little room for variation but instantly establishing this quartet as one of the Shittish Isles' finest, fastest hardcore combos. Bordering on grindcore for sure, Nothing Clean are honouring the spirit of the most insanely compact West Coast powerviolence bands of the mid-90s: Spazz and Lack Of Interest, particularly.


Release date 01/07/18.
Limited to 500 LPs on black vinyl.

Co-released with:
Abusive Noise
Circus Of The Macabre
Force Fed
Repulsive Medias
Samizdat
Vleesklak
Collective Zine
This thing is enjoyably exhausting, truth be told. 'Cheat' serves as a 41-track smash-and-grab raid that's hardcore at heart but takes what it needs from grind and powerviolence along the way. Despite the mammoth undertaking there's enough variance in the songwriting to ensure things never become dull or samey, the carefully-clipped riffs and oxygen-free beats maintaining a sense of freakish energy and power for the album's duration. A muscled-down, less-metal Despise You suits quite nicely by way of comparison, though with what's currently going on across the UK – Human Cull, Lugubrious Children, Groak et al – you could just say that Nothing Clean are another sterling example of homegrown bitterness and brutality.