|
NEWS
|
RELEASES
|
STORE
|
GIGS
|
CONTACT
|
LINKS
|
SF103
Parlamentarisk Sodomi
Krig Mot Norge 7"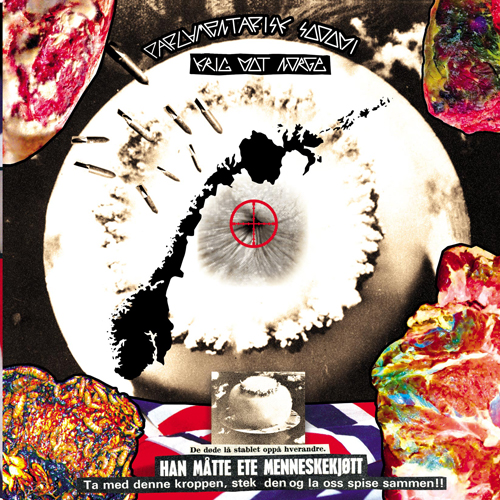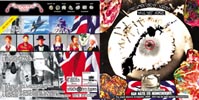 A1. 4 Til 5 Millioner Ubegravde Lik
A2. 6800 Kjernefysiske Stridshoder
A3. Sløsing Med Ressurser A Dumpa Lik I Massegravar
A4. Olympiske Atomvinterlaker Oslo 2034
A5. Krig Mot Norge
B1. Forsvarsminister Innkalt Til Rektoskopisk Undersøkelso
B2. Anal Interaksjon Med En Lobbyist Fra Meierigiganten Tine
B3. Anilingus Blant Innehavare Av Medisinske Patenter
B4. Halvsugde Statsrader
B5. Ypperlige Bakterielle Vekstvilkar
B6. Bisarre Seksuelle Pafunn Med Et Styremediem Fra Vapengiganten Nammo
B7. Tre Ganger Hurra For NATO's Generalsekretaer Jens Stoltenberg
B8. Utbredt Nekrose I Kjøttvev Blant Samtlige Aksjonaerer Pa Oslo Børs
B9. Akutt Diare Blant Alle Ansatte Hos Krigsprofitørene Kongsberg Defence Systems
B10. Ordførerskjede
This is the new EP from Steinar, Norway's one-man grind wunderkind and also the brains behind Brutal Blues and Psudoku. On side A of this 7" EP there are 5 heavy hardcore punk/grind tracks. On side B there are an unknown number of noisegrind songs grouped into 10 tracks. Just like on the 2017 split 7 inch with Gynekologene, this is Parlamentarisk Sodomi as a duo, with Hålgård Kalverud on vocals. The main themes of this release are nuclear war, cannibalism during nuclear war, sports during nuclear war, as well as sexual deviance and disease (for instance diarrhea) among politicians and other powerful people.


Release date 20/08/18.
Limited to 500 7"'s on black vinyl.
Co-released with:
Deaf Death Husky
(FR)
Snack Ohm Tapes
(NO)
The Quietus
For anyone out there disappointed that this Arse is not the early 90s Finnish noisecore band also called Arse, here is a review of a Norwegian noisecore 7-inch to finish this month. Krig Mot Norge is by Parlamentarisk Sodomi, is co-released by the Superfi, Snack Ohm Tapes and Deaf Death Husky labels and finds Steinar Kittilsen – appraised last column as part of Brutal Blues, and before that in his guise as Psudoku – coupling with a vocalist, Hålgård Kalverud, for a rash of sub-60-second grotty grinders on the A-side. Which are more than serviceable, yet it's the flip where stakes get high – deranged micromicroblasts of extremity lasting only a few seconds each and grouped into longer clusters to meet pressing plant necessity. For better or worse – real noisecore heads will reckon the latter – it's not wholesale anti-music, and packs a steelier bite than the last noteworthy 'grindcore band release a zillion-song record' thing I can think of, Insect Warfare's Noise Grind Power Death. Also, there's a closeup photo of an arsehole on the cover, and I'm not talking about [public figure of your choice here].